Welcome to 2017!
​It's hard to believe that the 2017 Soccer Season is soon to start. On behalf of Doonside Hawks Soccer Club, we invite you to join Doonside Hawks Soccer Club in 2017.
All registrations must be completed online at
www.myfootballclub.com.au
Log onto:
www.myfootballclub.com.au
Register Online at My Football Club. You will need your FFA number & your registered email address, a new password can be sent to your email address if you cannot remember the password from last season.
Online registrations commence from 4th of January 2017
. Once you have registered online you can attend one of the registration dates below to make payments if you haven't already paid by credit card online.
REGISTRATION DATES
Saturday 4th & 11th of February 9am – 3pm at Carousel Inn, Rooty HillThursday 9th of February 6.30pm – 8:00pm Carousel Inn, Rooty Hill
* Please note, registration days will no longer be held at plumpton marketplace due to availbity issues.
Cut off date for final payment will be 12th of March 2017.
At least 50% of registration must be paid before grading or Mini-Roos allocation day.
For families with more than one member registered or members suffering financial hardship a payment plan can be implemented to ease the financial burden of paying in full before the season commences. To apply for a payment plan please email the details to
treasurer@doonsidehawks.com.au
and a plan agreement will be prepared for you to sign. Please email the names of the players to be included in the plan and how much per week/fortnight or month you wish to pay.
Cut off date for payment plan requests is 28th of February
. Total fees must be paid before 15th of June 2017. Senior members not part of a family will not be offered a payment plan,
full payment must be made before 12th of March 2017
.
Payments can be made at registration days, online by credit card or you can make a direct deposit into our bank account, details below.
Account Name: Doonside Hawks Soccer Club
BSB: 062 293
Account: 00901636
Please quote above FFA number and Surname in your reference otherwise payment may not be allocated correctly. Please Note: All Players wishing to participate in the Grading Sessions must have paid at least 50% of the full registration payment other than players that are on an agreed payment plan. Players must attend all Grading Sessions for their age group if grading is required.
INCREASE IN FEES 2017
In 2017 there has been an increase in fees across all age groups due to an increase in fees from both Football NSW, BDSFA and an increase in referee fees from U10's and upwards. In addition to these increases, we have now implemented a new system for playing strips where each player will pay for their jersey as part of their registration fees and will obtain ownership of that jersey. It is anticipated that these jersey's will be allocated to players at grading or an arranged date with Senior teams. Jersey's will not be distributed to players that haven't finalized their registration payment, unless an arrangement has been made with the treasurer. A new jersey will be issued each year of the same or different design and will continue to be included in the registration fee. You will not be able to use the prior year's jersey and obtain a reduction in fees. We will be committing to a purchase of jersey's to cater for the whole club each year.
Due to the combination of the increases in fees we have not increased Doonside Hawk's portion of the registration fees, please be ensured we have only increased the fees by the necessary amounts to recover costs. A breakdown of the increase in fees will be publicised at registration and grading dates.
FAMILY FUNDRAISING REBATE
As there is a $30 fundraising levy included in every registration, if you are a family of two or more members you only have to pay this fundraising levy once. Therefore you are entitled to a rebate of $30 for every member registered after the first registered. To apply this rebate when registering online at
www.myfootballclub.com.au
you must apply your registration package then select the Family fundraising rebate package for every player
AFTER
the first registration for your family.
The first member registered must pay full registration with no $30 rebate applied
. Family members that are working adults other than the parents must pay the full registration without the rebate.
For those that need assistance with the online registration system, please attend one of the registration dates or please contact our Registrar – Sandra Woods on 0412 774 050. We look forward to seeing you again at Doonside Hawks Soccer Club for the 2017 season.
2017 Registration Fees

Inlcusive of Referee Fees, Fundraising Levy and Playing Strip

(Age is determined how old the Player will be at 31st December 2017). For every additional family member after the first registered member deduct $30 from the total fee.
Cut off date for final payment will be 12th of March 2017. At least 50% of registration must be paid before grading or Mini-Roos allocation day.
Uniform Costs

2017 Grading Dates & Team Allocations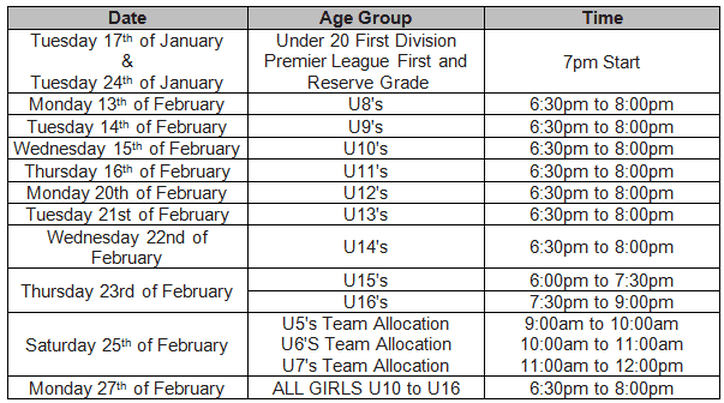 ​If a second week of grading is needed for any age group you will be advised at the end of the first session and it will be on the same day and same time the following week.
Yours in sport,
Enza KursunSECRETARY and PUBLIC OFFICER.DOONSIDE HAWKS SOCCER CLUB Inc.